Pink shirt day: Anti-bullying
By Neongirlx
Posted 20 Feb 2011 11:07
Category: Inspirational

Wednesday, February 23rd is Pink shirt day. Pink shirt day is also known as Anti-bullying day, it is always held on the last wednesday of February.

Pink shirt day started in a High school in Nova Scotia. A freshman[grade 9] boy came to school on the first day and was wearing a pink shirt, he was harassed, teased and threatened to be beat up by some other students.

Two Seniors[12th grade], David Shepherd, and Travis Price heard about this and decided to take action. They went to a nearby discount store and bought 50 pink t-shirts and tank tops for the next day. They then went home and e-mailed classmates and told them about the idea.

The next day at school there were dozens of students wearing pink, some wearing the discount shirts, some wearing their own pink clothes. When the bullied freshman walked in that day, Travis and David said he immediately lit up, it looked like a weight was lifted off his shoulders. The bullies haven't caused any trouble since.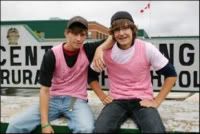 Travis & David

I'm not sure if they celebrate this in the USA or other countries, but we celebrate it in Canada, maybe you can help bring it to your area.

By wearing pink and showing your support on wednesday, you can show that you are not going to tolerate bullying in the workplace, schools or anywhere else.

The website

Featured:

Yes

(GleeoK)

Rating +3
The Wii Opera SDK is ©2007-2010 Daniel Gump. All Rights Reserved. Wii and Nintendo are trademarks of Nintendo Co. Ltd. Opera is a product of Opera Software ASA. The Wii Opera SDK is not affiliated with either party in any way but is an open source tool to promote the usage of the great products both companies create.