LinkZelda's Profile
"Veni. Vidi. Vici."
FIRST NAME
Dr. Laurel Ph.D
MOOD
Macaronic
STATUS
Active
BIRTHDAY
STATUS
GENDER
Wii CODE
1337
3DS CODE
42
LAST LOGIN
18 May 2013
MEMBER SINCE
14 Sep 2010
SAVII POINTS
1657
SAVII BUCKS
39
LinkZelda's Biography


Hi, I go by the pseudonym Laurel!
---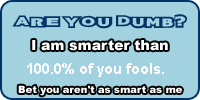 LOLYES
---
The Simpsons Quotes:



I don't need to be careful, I have a gun!
-
Homer Simpson to Marge Simpson (

He says this after Marge tells him to be careful with the gun.

)

You're a but man; that's the difference between success and failure. The use of the world "but"!


Homer Simpson to Ned Flanders



"To start press any key" where's the any key?


Homer Simpson



The easiest way to get out of jury duty is to say you're prejudiced against all races.

Homer Simpson




---
THIS PROFILE WAS DONE BY LINKZELDA. Who else would've done it?
---
Let ε<0
LinkZelda's Blogs
Primordial III
29 Mar 2013
Views: 106
Comm: 1
The Cutman
28 Mar 2013
Views: 113
Comm: 5
Gladiator
14 Feb 2013
Views: 106
Comm: 3
What is the mass of light?
30 Jan 2013
Views: 213
Comm: 17
Humourous Anecdotes: The Gym
14 Jan 2013
Views: 133
Comm: 5
The Wii Opera SDK is ©2007-2010 Daniel Gump. All Rights Reserved. Wii and Nintendo are trademarks of Nintendo Co. Ltd. Opera is a product of Opera Software ASA. The Wii Opera SDK is not affiliated with either party in any way but is an open source tool to promote the usage of the great products both companies create.